CURVES FOR THE CURE LINKS
Scholarship
In 2010 Curves for the Cure decided to add a scholarship to its donation. The $1,000 scholarship will be awarded annually to a member of the graduating class of Frankenmuth High School.
Curves is pleased to announce the winners of the 2018 scholarship are Lauren Keyes and Ben Schuler.
Scholarship History
2018 Recipients: Lauren Keyes: Northwood University and Ben Schuler: Saginaw Valley State University
2017 Recipients: Sara Aldrich: Kettering University and Jared Davis: Universtiy of Michigan-Ann Arbor
2016 Recipient: Rachel Welch: Grand Valley State University
2015 Recipient: Anna Ferguson: University of Michigan-Ann Arbor
2014 Recipient: Nicholas Volk: University of Michigan-Ann Arbor
2013 Recipient: Madison Mertz: Hope College
2012 Recipient: Taylor Wood: University of Michigan-Ann Arbor
2011 Recipient: Zoe Deschaine: Central Michigan University
2010 Recipient: Meaghan Beyer: Michigan State University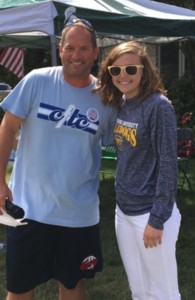 2017 Recipient Sara Aldrich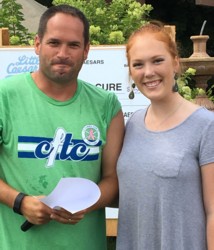 2016 Recipient Rachel Welch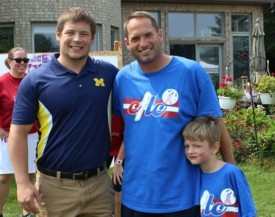 Nicholas Volk, 2014 Scholarship winner, with Brian and Jake Toth.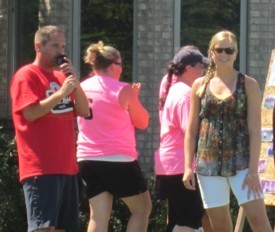 Brian Toth introducing Madison Mertz, the 2013 CFTC scholarship winner.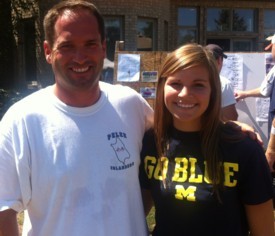 Brian Toth and 2012 Curves Scholarship Winner Taylor Wood.

Ben's Thank You Letter
Jared's Thank You Letter
Sara's Thank You Letter
Anna's Thank You Letter
Nick's Thank You Letter
Madison's Thank You Letter
Taylor's Thank You Letter
Meaghan's Thank You Letter